Furever Friends Dog Rescue of WNY, Inc. is a 501(c)(3) nonprofit volunteer corporation whose focus is to rescue and secure permanent homes for puppy mill dogs, and all other dogs in need.  In addition, we strive to raise awareness and educate the public on the plight of dogs living in puppy mills. Our ultimate goal is to put an end to puppy mills, and to ensure that every dog has a fair chance. We will work diligently toward our goals until "all the cages are empty.
"
All the dogs pictured on this website were rescued from puppy mills by Furever Friends Dog Rescue of WNY!
Talbot's in Store Fundraiser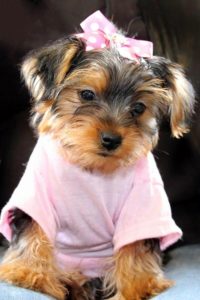 We would like to give a huge shout out to Kathy Schneider and Talbot's, 4005 N. Buffalo Rd., Orchard Park, NY for holding an in store fundraiser for us on September 21, 2017.  We received 10% of all sales on that day!
Thank you for thinking of Furever Friends.  Your generosity will enable us to free more dogs from puppy mills!
Why we don't list adoptable dogs on our website
Furever Friends is a 501c3 non profit Corporation.  All of your donations go directly toward the transport and immediate medical care required to rescue the dogs and puppies from the puppy mills, and bring them to Buffalo.  At times there are additional costs depending on the dogs needs.
We are one of the many rescue partners of the SPCA Serving Erie County at 300 Harlem Rd., West Seneca, NY. After the dog's arrival in Buffalo, most of the dogs and puppies are surrendered to the SPCA, who will then adopt them into loving homes.  The SPCA handles all of the dog's medical care, including but not limited to the spay/neuter procedure.  The dogs will also be evaluated to assure that they are ready to be adopted.
We post pictures of our dogs and puppies because it is very important to let our supporters know where their donations are going and that they are being put to very good use!
If you are looking for a dog or puppy to adopt, please check the SPCA website directly for adoptable dogs by accessing the link below.
http://bufny.wpengine.com/how-you-can-h elp/adopt/adoptable-animals/
We thank your your continued support!
Follow us on Facebook
Stay up-to-date on rescued dogs, latest news and more…