Furever Friends Dog Rescue of WNY, Inc. is a 501(c)(3) nonprofit volunteer corporation whose focus is to rescue and secure permanent homes for puppy mill dogs, and all other dogs in need.  In addition, we strive to raise awareness and educate the public on the plight of dogs living in puppy mills. Our ultimate goal is to put an end to puppy mills, and to ensure that every dog has a fair chance. We will work diligently toward our goals until "all the cages are empty.
"
All the dogs pictured on this website were rescued from puppy mills by Furever Friends Dog Rescue of WNY!
Thank You For Your Support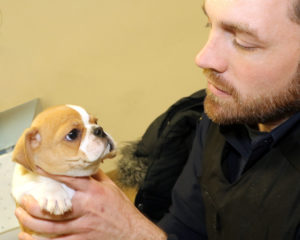 Please donate today. Your generous donations go a long way toward rescuing dogs from puppy mills and giving them a chance at a new life!
Visit our How You Can Help page to see the  ways you can support Furever Friends Dog Rescue of WNY, Inc.
Life After Rescue
A perfect fit!  This is Phil and his dog Maxwell. Maxwell was rescued by Furever Friends 6 years ago, with one of his hind paws missing. Phil and Dona knew he was the perfect fit for them so they adopted him. Maxwell turned 13 this past February. It is wonderful  to see what love, and kindness can do for a dog after surviving the horrors of a puppy mill!  Thank you Phil and Dona for showing Maxwell the meaning of love!
Follow us on Facebook
Stay up-to-date on rescued dogs, latest news and more…