What is a Puppy Mill?
A puppy mill is a large-scale commercial dog breeding operation where profit is given priority over the wellbeing of the dogs. Unlike responsible breeders who place the utmost importance on producing the healthiest puppies possible, breeding at puppy mills is performed without consideration of genetic quality. This results in generations of dogs with unchecked hereditary defects.
Puppies are taken from their mothers at an early age and are sold to unscrupulous pet brokers who in turn sell them to pet stores, where they are purchased by unsuspecting customers. These puppies often travel for miles in tractor trailers or pickup trucks without proper water, air or nutrition.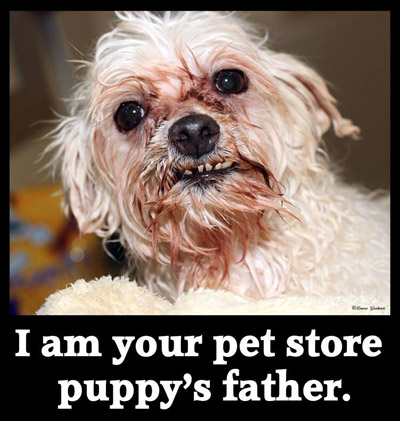 What about the Puppies' parents?
When someone buys a puppy from a pet store or over the internet, this is what its parents probably look like. It's a picture that most people do not want to look at, but it is a reality. When people buy puppies from places like this, they help keep them in business.
These dogs are forced to live in deplorable conditions which entail confinement to a wire cage while lying in their own excrement 24/7 for most of their lives.
Mill dogs have no access to fresh water, nutritious food, fresh air, exercise, or medical care. Many suffer from malnutrition and exposure. The adult dogs are forced to breed over and over until they are no longer of use to the breeder. At this time the dog is either inhumanely destroyed or sold to another breeder.
THE COLD HARD FACTS
EACH YEAR 7 MILLION DOGS AND CATS ENTER SHELTERS.
EACH YEAR 3 TO 4 MILLION OF THOSE ANIMALS ARE EUTHANIZED.
EACH YEAR 4 MILLION DOGS ARE BRED IN PUPPY MILLS, AND 99% OF THOSE DOGS ARE SOLD IN PET SHOPS AND ONLINE.
Why Do Puppy Mills Turn Dogs Over To Rescue?
First of all it is important to understand that our rescue contacts have worked with these breeders over time to help them understand that there are "retirement homes" available for these dogs. Our contacts do not present themselves as "rescuers." It's a very subtle and non-threatening relationship that is developed. Some think the mills that turn dogs over are perhaps those with a bit of heart left for the dogs. Others think it's just fewer dogs they have to worry about executing. Whatever the reason, this is the only chance these dogs have at getting to know life outside of the cold, dark confines of their wire cages.
Dogs are released for a variety of reasons. The most common reason is that the female dogs at 5-7 years old are "used up" for breeding purposes. Their bodies simply can no longer produce puppies and many of these gals are very, very sick upon rescue. It is believed that on a daily basis in the mills, many an older female dog is found dead in her cage, unable to fight off the diseases and ailments brought about by years of producing puppies.
It is also common to see deceased young dogs and puppies. The young female dogs are usually not good at mothering. Most mill dogs are bred on their first heat and some still being puppies themselves are unaware of how to care for their young. Young male dogs are often turned over, as they are no longer needed. It takes only one good breeding male to impregnate many females.
Finally, we see puppies that are not accepted by the brokers for several reasons: they may have enough of that certain breed in their trucks, have health issues, or the puppies may have grown too old (10-12 weeks) to sell to the pet stores. If the puppies are not released to rescue, they are held back for breeding or destroyed.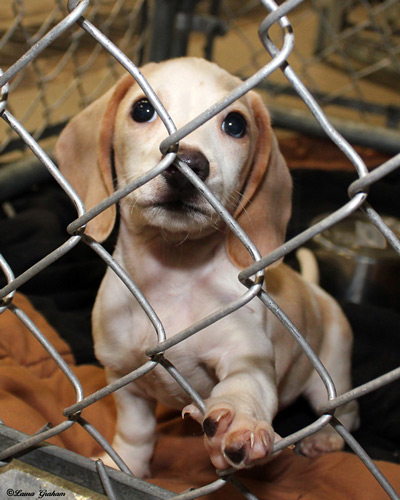 Common Behaviors of Former Mill Dogs
These dogs do not know how to go up and down stairs or walk on a leash, and are not house broken. The majority must have several if not all of their adult teeth removed due to infections from lack of proper dental care and nutrition. Their nails are long and sharp, and many have cysts between their toes due to walking on the bottom of a wire cage for their entire lives. Some have ear mites, eye infections, orthopedic issues, and much more.
Please spread the word and if you know someone who is looking for a puppy at pet stores or over the internet, please discourage them. Encourage them to buy from a reputable breeder, or better yet, adopt from an animal shelter or pet rescue group.
If we all stick together we can make a difference in the lives of these innocent, voiceless victims.