Puppy Mill Dogs After Rescue
After puppy mill dogs are received into rescue, what happens next? Each dog will receive a good meal and be given a bath (for some it is their first bath) and nail trim. Then, the dog's health will be evaluated. Many if not all of the dogs will need a dental cleaning and spaying or neutering. They will also need the standard vaccinations. Some may have issues such as tumors, ear mites, eye issues and so on that will need to be addressed before the dog is ready for adoption.
With all of this poking and prodding and being in a new environment, many mill dogs are very frightened. Just imagine their only home has been a cage where no one has touched them unless it is for breeding purposes. They have probably never set foot out of their cage or felt anything under their paws except for wire! It is only natural that they will be afraid but in the majority of cases this fear can be overcome with patience and love.
Depending on what the dog has been through at the mill and how long they were there, their fear can go away in a matter of days. For some it may take a little longer. For those that need more time, they will need to learn to trust their caregiver. Trust can be developed by sitting with the dog, trying to hand feed them as they come closer and finally a hug and a kiss. This can take a few weeks or months but with patience these mill dogs can learn to trust and love. If you have ever heard that song by Foreigner, "I Want to Know What Love Is," this describes a mill dog. Once they feel trust and love, they will blossom and become loyal companions to the person who has given them a chance for a better life.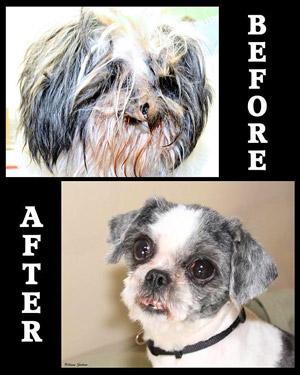 Nellie's Story
Nellie is an 8 year old Pomeranian. She spent her 8 years as a puppy mill breeder confined to a cage with sub-par food and only drinking from a rodent bottle. In the mill, her puppies are taken away too early. When she was rescued from one of the Ohio puppy mills by Furever Friends, she had only 2 teeth left in her mouth, a hernia that needed repair and she was very thin. Being a volunteer for Furever Friends for over a year, I had been taken with many of these sad dogs that were rescued by our group. Blossom, as she was named by our group, was in need of a foster home until her medical problems could be resolved. One of our members fostered her but then Blossom needed another person to step up for her care.
I am also a volunteer at the SPCA Serving Erie County. When I saw Blossom in a kennel again, I knew I needed to bring her home. She received the surgeries she needed – one of her two teeth was removed, her hernia was repaired, and she was spayed. After 3 weeks, my family and I knew that she needed to stay with us. She is being house trained, starting to master stairs and loving our two dogs and cat. She is walking on a leash and running in our backyard with legs and feet that have only known the floors of a wire cage. After careful consideration and care, we decided to name her Nellie. With continued love and patience, we know that even after 8 years in a puppy mill, she will continue to thrive as every dog should. Nellie is a sweet little delight and we can't imagine our lives without her.
Meet Sophie the Boxer puppy
Sophie came to Furever Friends Dog Rescue of WNY like so many other mill dogs or puppies. Injured! She was discarded by the breeder because of "money." She is a purebred boxer pup with a broken leg and because this was going to cost the breeder time and money which would cut into his profit, he wanted her gone. The broken leg, more than likely, occurred when her leg slipped through the wires of the cages that they stand on and she moved, and her leg didn't! Many mill dogs come with injuries such as broken bones, missing limbs, eye injuries, torn ears, and more, due to the wire cages they live in, and on.
She was brought to a vet for a diagnosis, which in itself is almost unheard of in the breeding community. The breeder agreed to pay for the x-ray alone but then when he was told what it would cost in time and money, he said to just euthanize her. The vet staff often calls rescue groups when this happens and hopefully, one will step up for the dog. We got that call and our Board of Directors agreed to accept her into our rescue. She was only 8 weeks old at the time.
She is in one of our foster homes at present and isn't available for adoption until her leg heals and she is spayed. As you can see, she is a gorgeous pup and full of life. Any donations for her continuing care would be greatly appreciated, large or small. Help us to continue to help them, until all the cages are empty!
Holly's Story
In May, Furever Friends Dog Rescue of WNY, Inc. was contacted by a few different Amish breeders because they had some old mill dogs and/or mixed-breed pups that their broker didn't want, and could we come and take them away. We put together a transport and some members went down to pick up these dogs. It so happened there was a swap meet on that same weekend. This is an open air market where breeders and farmers bring their wares such as cages, leashes, and collars, their old mill dogs that are no longer producing, mixed breed pups, squirrels, foxes, birds, small pigs, and exotic animals to get rid of.
When we arrived at the swap meet, a woman familiar with what we do came immediately up to us and asked us to come and see a bloodhound that really "needed us." We went over to the woman who breeds and sells exotic cats, but also had this extremely emaciated bloodhound in a small cage. There was another dog in a cage that we were told was her son. He was in much better shape than his mother. I asked what the story was on the bloodhound and was told that she was 6 years old and they wanted her gone. I asked "why is the dog so thin" and she started saying that her husband takes care of the dogs and she takes care of the cats. The owner had no idea what her husband does with them. She doesn't feed the dogs!
The dog's name was Holly. I asked her to take Holly out so we could get a better look at her. Holly leaned into us immediately and seemed very sweet. I couldn't imagine anyone giving her away. It appeared to us that she may have bilateral entropions of her eyes, a condition where her eyelids roll into and under her eyes. It is the sensation of having something in your eye at all times, and is a painful medical issue. The woman said that she has always had this condition. The bones in her hips, shoulders and skull were prominent, indicating severe emaciation. We walked away to try and decide if this dog could be helped at all.
As we were discussing our options, a few other people who knew we were a rescue group come up to us and basically begged us to take her. One man told us that Holly was chained to a dumpster at the site all night, without food or water, and that he had loosened the "too-tight" collar or he couldn't have slept that night.
We discussed what we could offer Holly, if anything, and decided that even if she couldn't be helped, at least we could put her down with some degree of compassion and dignity. We went back to the owner and told her we wouldn't pay her anything for the dog because the dog needed immediate medical care and we were going to do that. At this point, her husband came up to us and wanted to know what was going on. We told him that his wife "gave us" Holly and we were taking her immediately to a vet in Ohio. He wanted to know if the dog had heartworm, would we "put her down."  I asked him "does she have heartworm?" His reply was that he didn't know as she was never tested.  I told him the dog was in pain due to the eye issue, and that the dog was terribly thin. He told me "I feed my dogs." So, after owning this dog for 6 years, he helped put her in a crate in our van and wished her a good life.
Her medical issues were many,  and they included emaciation with a body score of 2 out of 9, dehydration requiring IV fluids, severe infestation with whipworms (which she has probably had for her entire life, adding to her emaciation), ear infections, and bilateral entropions. She was heartworm negative. Re-feeding her took some time as her depleted body could only handle a few small meals a day to start with.  She has had a very slow recovery but has gained weight from an initial 43.5 lbs. to weighing 56 lbs., two months later. She is being fostered by the person who wants to adopt her once she has been spayed and her eye surgery is done. Her foster Mom says she is just the sweetest dog ever and couldn't imagine anyone giving her away.
The members of Furever Friends saw the sparkle in Holly's eyes as though she were pleading for them to help her. We are so glad they did!
A Second Chance
According to his ear tattoos, this dog's name was "OHO" in his right ear and either "47 or 41" in his left (it is faded over the years). He spent nine years in a cage in the barn, making money by way of producing puppies for his breeder. The breeder was going to "just put him down" but the rescuer asked him to be released to her so she could attempt to find a rescue willing to take on his medical issues.
His name is now Davey and, hopefully, he will learn it soon. He is a small Pomeranian, which made him very valuable to the breeder because society values tiny dogs, therefore, committing this one dog (of millions) to a life of imprisonment. His list of problems are a head tilt, very lax wrist and ankle joint on both front and rear of leg on one side of his body which cause him to stumble occasionally, his mid-section is smooth and hairless. He has no teeth. And since his bark is very raspy, he probably has been debarked. This is usually done using a pipe down his throat to break his vocal cords. On the plus side, he has the sweetest personality in the world and a zest for learning about his new life outside the cages.
After the foster mom bathed him, she noticed that he has a thickened neck and chest muscles on his one side opposite the way his head tilted. This is the same side that the front and rear leg have the loose joints in the wrist and ankle. We all know that mill dogs circle tightly in their cages for hours on end to relieve stress. This is called "cage crazy". He could have circled constantly in the same direction, for all these years, causing the head tilt, the lax joints, and the hypertrophied muscles on the opposite side. The reason for his hair loss could be attributed to hypothyroidism which is easily corrected and he will be tested for this and started on inexpensive medicine. All of these conditions may improve once he adjusts to life outside the cage. Nothing can be done for the lack of teeth or the raspy bark.
Our group is committed to these dogs and to educating the public about the horrors of puppy mills. Please think about Davey the next time you walk into a pet store or look for a new puppy on the internet.
A Chance Encounter
"It's funny how a chance encounter can alter your perspective and enrich your life"

This story is a testament to how people can successfully rehabilitate Puppy Mill dogs, and love doing it!
One day, at work, I spoke with a lovely lady named Patty, who was wearing a scarf with dogs on it. It sparked a conversation about her passion, rescuing puppy mill dogs. I remarked that, ten years after losing my treasured Pomeranian, I wanted a puppy. In the course of our chat, I had shared that I was a teacher, who also worked part-time. Patty commented that I was too busy to give a puppy enough attention. Then she raised my awareness of the horrible life puppy mill dogs endure. She said that I could give an adult dog a wonderful life. She suggested that I call her when I was ready, and she would find the perfect dog for me.
Summer came and brought Tawny into my life. She was a petite six year old who had spent her entire life in a cage having babies. Tawny was timid and devoid of emotion. I devoted every day of that summer to potty training, walking, giving praise, and loving that little girl. It took three long years for her to trust me enough to make eye contact, but she responded to me long before that. Friends who knew us were amazed by her transformation! I knew it was all worthwhile when she ran with wild abandon and joy at her favorite park and eagerly interacted with people and dogs that she met there. I was thrilled to be able to give Tawny 6 ½ years in a loving home, longer than the time she had spent in the puppy mill.
Ten incredibly sad months after losing Tawny, Bailey Rose came into my life. Again, Patty came through with the perfect dog. Bailey was days away from turning nine years old. She had spent eight long years having babies in the mill and had spent one year with a man who neglected her. I was dubious about adopting a senior dog, but it has been serendipitous. Bailey just turned twelve, but if you saw her run excitedly in the park, you would think she was a two year old. Just like Tawny, Bailey was initially shy and showed no emotion. Today, she is a confident, joyful girl with a mischievous twinkle in her eye. Sloshing through muddy puddles, hiding toys, roaming the park, and belly rubs make her happy. Those are the hallmarks of a well-loved, confident girl who sees the world as a safe, caring place. I am so proud of Bailey!
I have incredible respect for the strength and resilience these dogs demonstrate. They have never experienced a loving touch or dared to dream of anything beyond another horrible day in cold stacked cages in a barn. It is a tribute to the power of love, patience and praise that they can be nurtured to trust, gain confidence and experience the joys of freedom and feeling cherished. Mill babies come with fears of noises and their own boundaries. Those fears and boundaries must be respected. My girls have thrived on routine. Nurturing them has been the most rewarding experience of my life. I learned that I could indeed make a difference in the life of a dog, and I didn't need to find that dog from a breeder, or in a pet store. I have been so richly blessed by my mill girls!
My high school biology teacher shared her personal philosophy repeatedly throughout the year. It was REVERENCE FOR LIFE. Patty and the amazing ladies of Furever Friends personify that philosophy. They have made it their mission to offer each rescued pup the opportunity for a life free from fear, pain and despair, and the chance to experience a richer, loving tomorrow. Furever Friends' endeavor is ambitious, often heart-wrenching, satisfying, and oh so worthwhile… one dog at a time.
Farren's Story
A group of us made a trip to attend a "swap meet" in Ohio, in an attempt to save more dogs from the breeding business, where they would be confined to cages in barns, bred cycle after cycle. On the way, we were contacted by another rescue group, who had made a contact with a woman who bred dogs, but also obtained dogs both from swap meets, and from Amish puppy millers who didn't want the dogs anymore. She thinks of herself as not only a breeder, but also a "rescuer". We weren't  sure what to believe about her, or her story.
She told us that she and her husband, were sickly and she "had to get down"  the number of the dogs in her house. She was asking our two rescues to take a total of 10 dogs. This would leave her, supposedly, with 4 dogs in her house and 4 "outside" dogs. If  she was to be believed, she had a total of 18 dogs that she had to care for on a daily basis.
We arrived late afternoon, and it was 85 degrees, and very humid.  The woman pulled up in a rickety old van. When she opened the back doors, it was piled high with mostly junk, but when we looked inside we saw seven dogs in 3 median-sized crates. The dogs were panting loudly and appeared to be very hot. There wasn't any way that air conditioning (if there was any) could have gotten to them with all the debris piled around them. We took out the three that we were taking from them and then I asked if she decided not to bring the other 3 dogs for us to look at. She said no, because they were in the van "somewhere" and that she hadn't "packed the van" so we would have to remove some of the "stuff" to find them. This really scared us due to the extreme heat, being parked in the sun, and it was getting hotter by the minute. We started pulling folding chairs, large bags of dog food, and miscellaneous boxes of "stuff" out. We didn't see any dog crates. Then, in the middle of the van, she exclaimed, "there they are". There was this tiny aluminum flat covered cage – it was long, with three very narrow compartments in it. The only thing I could think of was, if you were transporting homing pigeons, this would be the container to use. Certainly, not dogs! We pulled it out and inside the middle slot, with no room to move at all, was this dog. There was something in the other two slots, but I was so shocked that I didn't see what they were. I just reached in and removed the tiniest Pomeranian I have ever seen. She couldn't move at all in this container which was in the center of a stuffed van, and this was a dog we were told had a history of having seizures! She explained to us that she had gotten the Pom from a breeder because the breeder had a hard time getting her to mate due to her crippled legs.
Because of her severely damaged knees, inability to stand upright, coupled with her extreme smallness, she was more trouble than she was worth to the puppy miller. She weighed a whopping 3 ½ lbs. We were also told that she was elderly, but at 8 years old, we only considered her middle aged. She had a mouthful of rotten teeth, very long nails, and smelled horrible!  All this is typical of breeder dogs that live in a mill, not a dog you have had in your home.
We expected this lady to tell us that she had this dog for six months but, to our dismay, found out that she actually had possession of her since she was 2 years old. Farren had not seen a vet, has had no vaccines, and certainly no effort was made to help correct her horribly crippled legs.
Well, since then, she has been all cleaned up, been spayed, and had her rotten teeth removed, as well as x-rays done on her legs and hips. She has gained strength in the muscles of her legs and gets along fairly well, although she will she will always be hunched over.
She has been adopted by one of our members, who named her Farren, and she is an absolute sweetheart!
Ellory's Story
Today was Ellory's last day. Another puppy mill dog who didn't get a chance. Furever Friend's Dog Rescue was contacted about a Coton de Tulear, male, who the breeder thought was around six yrs. old. Right!! We agreed to take him. The vet in Ohio thought he was older by his many medical conditions and thought he might have to be euthanized. After looking at photos sent to us, we thought we would try. He came in last night along with other dogs that our group picked up in Ohio….
We couldn't bath him last night due to extreme matting, and that he was in severe pain from untreated eye ulcers. He was fed, medicated for pain, and bedded down on a soft blanket, probably for the first time in his life. First thing this morning, one of the shelters wonderful employees, Joanie, groomed him. His skin was full of infection, sores, and scabs. She gave him an oatmeal bath and soaked him for awhile so he could get some relief. He certainly looked and smelled better after that.
I found a harness that wouldn't cause him any discomfort and took him outside in the sunshine, probably for the first time in his life. We discovered he was both blind and deaf. He walked and enjoyed the fresh air for about an hour. He stayed with me and ate some soft yummy food, surveyed his surroundings, and was sweet with everyone he bumped into. Our vet examined him tonight. The diagnoses went on forever. He was thought to be much older than the new thought of age of 8, probably 12-14. Besides being blind, deaf, with severe eye ulcers, in severe pain from them, he also had a heart murmur, painful knees, infected skin, horrible dental problems, and infected ears. He had lived like this, being used as a stud in a cage, for his entire life.
From the puller, to the animal hospital in Ohio who cared for him until we could get him, to the transporters who made the road trip, to the vet techs at the shelter who vaccinated and medicated him last night and this morning, to the kennel staff that care and fed him soft food, to the group members who loved him up last night, to the groomer who lovingly and gently washed him today, to all the staff who gave him a pet and to the vet who examined him, we cared for him better in the last 48 hours then the miller did in his entire life. He was humanely euthanized tonight. And we loved him better, too. Rest now, Little Man, you will be remembered.
Meet Daisy
Meet Daisy, an 8 year old French Bulldog. Daisy spent the first 4 years of her life in a puppy mill, forced to breed over and over again for profit. Furever Friends rescued her in February of 2011 and she immediately came home with one of our members. French Bulldogs are seldom released from puppy mills, as they generate a hefty profit for the puppy millers. They are growing in popularity and can be seen on television shows such as Modern Family. Pet store operators purchase them through a pet broker; acting as a middle man between the puppy millers and the pet store operators. Daisy was lucky to have been freed at the young age of 4. Many aren't so lucky! The first picture is of Daisy on the first day of her freedom. She was so frightened that she would not even hold her head up. The second picture is of Daisy loving life in her furever home!
This is Simba
Simba, an 8 year old Pomeranian, spent the first 4 years of his life as a breeder dog confined to a puppy mill. Male dogs are a dime a dozen to a puppy mill breeder, so Simba was discarded at the young age of 4. When he came home he was frightened, unable to go up and down stairs, and hid from everyone. Over the years he gradually learned to trust, and today he wags his tail, and is no longer afraid to be around humans. However, there are still lingering scars. He is frightened of squeaky and loud noises and also of feet, but all in all he has really come around. Today Simba attends fundraising events to create awareness and also serves as an example of his amazing progress. Puppy mill rescues require an abundance of love and patience. These are pictures of Simba on the first day of his freedom, and also living his life today.
Zoey's Story
"When my husband and I adopted Zoey, it was a week before Christmas and we had just moved into a new house (which was still in boxes). I remember thinking that the timing was not ideal for adopting a dog, but after meeting Zoey, I knew we had to save her. My husband and I decided that it was okay if it took us longer to unpack and if the Christmas shopping didn't get done. Zoey was our priority. And now, she is what makes our house a home! When we brought Zoey home, it was the first time she had been in a house. She had never eaten out of a bowl before so for a while we had to feed her out of our hands to make sure she would eat. She quickly adapted to her new life and over time learned how to eat out of bowls, walk on a leash, and eventually mastered the stairs. The most important thing Zoey learned right away was that she could trust us. It didn't take long for our bond to be built. And she quickly found comfort with us in her new home. She is such a happy dog now and loves just being with us…and getting belly rubs! Her favorite thing to do is go for walks and visit her doggy friends in the neighborhood. She loves meeting other dogs and is always so curious when people walk by us. She gets nervous still when other people try to pet her but has gotten so much better with it since we got her. I am just so proud of her and all of the progress she has made! She is the best dog and the absolute perfect dog for us!"